Let's face it. Sometimes rain falls even when you're on vacation, and you asked very nicely for it not to. When it does, don't despair, just check out some of Ensourced's favorite indoor Portland destinations and make it an awesome day!
Indoor Portland Destinations: Find Your Fun
Portland offers visitors world-class museums catering to adults and children alike. Whatever you're into, chances are you can find it in Portland!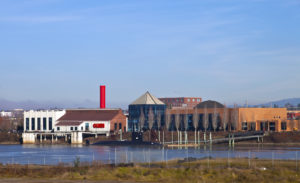 OMSI – With tons of exhibits with hands-on exhibits, an IMAX theater, a planetarium, an interactive science playground, OMSI is fun for adults and children, too. There's even a daily tour of the submarine residing dockside. There's a lot to see here, so plan to spend several hours.
Oregon Historical Society Museum – If you're interested in the history of Oregon, look no further than the OHS Museum in downtown Portland. This is an incredible place to spend a few hours exploring 3 floors of permanent and traveling exhibits. Don't miss out on the Research Library, either! It's open to the public and has a huge collection of Oregon-related books, photographs, newspapers, maps and other interesting publications.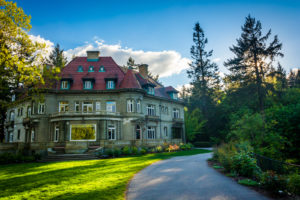 Pittock Mansion – This beautiful mansion in the west hills was once the private home of the original publisher of the Oregonian. Tons of history here and incredible views of the city.
Portland Art Museum – the oldest art museum on the West Coast. Housing tens of thousands of interesting works in its permanent collection and typically at least one major traveling exhibition. Definitely worth a visit.
World Forestry Center – Conveniently located just across from the Oregon Zoo, the Center offers interactive exhibits on trees, timber harvesting, and forest management techniques.
Rainy Day Adventures: Explore a World of Books
If finding a quiet place to dive into a good book sounds like the perfect way to spend vacation, you'll love getting lost in the world's largest new and used independent bookstore. But, book nerds won't want to miss our approachable Central Library.
Multnomah Central Library – Portlanders are known for our literacy and like to brag that we have one of the highest levels of library circulation in the country for a city our size. Pop by the conveniently located Central Library downtown which was originally opened in 1913 and has been welcoming locals and visitors alike since then. Marvel at the magnificently carved granite staircase or just use the convenient printing functions accessible without being a library member.
Powell's City of Books – Occupying an entire city block, this incredible bookstore houses approximately 1 million books. Color coded rooms and over 3,500 sections contain new, used, rare and out-of print books so grab a map at the info desk before beginning your exploration. Don't miss the rare book collection where you check-in at the info desk and are given a pass for entry when occupancy allows. It's a book-lover's paradise!
Go Electronic: Find Your Way to Play
After spending all that time strolling through museum after museum then getting lost and found in Powell's, you're probably more than ready for some electronic engagement, and boy, does Portland have just the thing!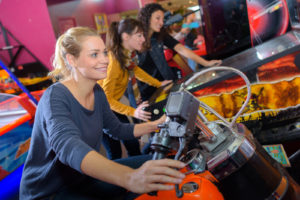 Ground Kontrol – Video games aren't just for kids (though they're welcome, too – 12p-4:30p daily). Located in PDX's Old Town Chinatown, this place is home to 60+ classic arcade games and nearly 30 newer and vintage pinball machines. They have a full bar after 5pm and a solid menu of hot dogs, snacks and other such fare. There's typically no cover charge (except during special events/small entrance fee at peak times – Fri/Sat nights) and most games are 25-50 cents.
Quarterworld – Another fantastic arcade is Quarterworld – located in Portland's eastside. They've got 30+ pinball machines and upwards of 60 arcade games that include your favorite retro gaming cabinets as well as skeeball, pop-a shot, and other fun stuff. Quarterworld is staffed with super friendly people and also has a full bar, great food and a musical Tesla coil! This is an awesome place for families or just people who like fun to spend an afternoon.
Wunderland Cinema & Nickel Games – Fun for kids showing second-run movies and offering loads of arcade games to keep them entertained for a nominal entrance fee. Win tickets playing games to buy cheap prizes!
Fun Inside and Outside
When you're ready for adventure but the weather won't cooperate, hopefully these ideas for fun indoor Portland destinations will help salvage your day. And hey – when the sun break finally heads your way, get out there and explore all the beautiful must-see outdoor destinations when you're visiting Portland!