We all know bathrooms are dirty and we don't need countless studies to prove it. But they are also the one place in a space where guests feel most vulnerable so it must be pitch-perfect every time.
The only way to ensure quality results is to clean thoroughly and often. It's a dirty job, but somebody has to do it. Use these tips and tricks to efficiently and effectively clean your bathroom.
Step 1: Get the grime
Start with the dreaded toilet and other porcelain surfaces so you can let the chemicals do the work for you. Using a porcelain safe cleaner, cover the inside of the bowl generously and allow that to sit while you take the same cleanser and generously apply it to the bath tub and/or shower doors as well as the sink. If you think you're making a bigger mess than you started with, you're doing it right.
Pro Tip: For extremely scummy shower doors create a paste with baking soda and a small amount of vinegar- apply generously, let dry, scrub with cloth. Repeat as necessary.
Step 2: Clean the counters
Lightly spray mirrors with a diluted white vinegar (1:10 ratio) and wipe immediately with a clean, dry cloth. Using the same vinegar spray, douse the countertops and wipe dry. Now scrub and rinse the sink, making sure to get the crevices by the base of the faucet and also where the sink and metal drain connect.
To go the extra mile (meaning this needs to be done, just not as often), pull the drain plug out and clean it thoroughly with vinegar spray, wipe it dry and replace.
Pro Tip: For common sinks that concave into the counter, be sure to wipe the inside lip all the way around. Nasty grime can build up here and it is often neglected.
Step 3: Spray the shower
Heavily spray walls and fixtures with vinegar spray. Let that work for a minute while you scrub and rinse the tub. Make sure to use that elbow grease – you can't always see soap scum, but if you take your hand and run it along the smooth porcelain, you will be able to feel any spots that were missed. Continue wiping walls and fixtures until all surfaces are smooth and dry.
Pro Tip: Shower heads often accumulate a grimey build up, for a deep clean fill a plastic snack bag with vinegar, place around shower head so the entire head  is soaking and secure with rubber bands or string. Let soak overnight, rinse after removing.
Step 4: Tackle the toilet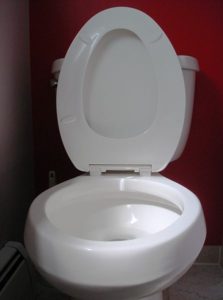 Spray the entire toilet and all its moving parts with diluted vinegar. Starting at the top, wipe dry the tank and handle, next move on to the toilet seat cover, and then the toilet seat. Now using your toilet scrubber, scrub the inside of the toilet bowl, flushing as necessary. Continue working your way down, wiping the outside of the bowl as well as the base of the toilet.
Pro Tip: To keep a clean toilet scrubber rinse and allow to dry after each use. This is easily done by placing the handle of the scrubber between the toilet bowl and toilet seat – allowing the brush edge to drip into the toilet. You can rinse the head with bleach, or simply spray with vinegar and rinse by running a fresh bowl. Allow the brush to air dry for a few minutes while you put the finishing touches on your bathroom.
Step 5: Finish the floors
Using a vacuum or a broom you can easily eliminate large debris and loose hair. However, for a guest-ready listing, vinegar spray and a rag using the tried and true Cinderella method works best. Be sure to pay close attention to all corners where hair and debris often get trapped as well as the baseboards that are too often neglected. Start at the wall furthest from the door and work your way out of the bathroom.
Pro Tip: Grout is extremely absorbent and therefore holds moisture that encourages the growth of mold. For stubborn grout areas use an old toothbrush and pure bleach to scrub and kill mildew. Rinse with hot water.
Now step back and take in all your hard work as you search for anything that might have been missed. Don't forget to put away the toilet scrubber and be sure to reset linens and amenities. Tri-folding towels before hanging (this is simple and looks lovely), facing all amenity labels to the front (for easy identification), and peaking the toilet paper tip are a few finishing touches that will make your bathroom scream clean.