So, you've gone on the ADU tours, found the perfect architect to translate your tiny house ideas, worked with a fantastic group of contractors to bring that vision into reality and now it's time to furnish the interior and start attracting those guests of your dreams. Taking these next steps can feel intimidating but you don't have to be an interior designer or even hire one to create a compelling space that captures the eyes (and wallets) of your ideal traveler.
Steady On
By now you've spent so many thousands of dollars and the receipts are piling up and that just gets you to the bare bones phase. You still have to find the perfect furnishings for the space– now is not the time to cheap out!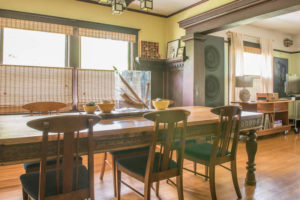 Buckle down and remember that guests aren't necessarily going to find the specific architectural qualities of your space noteworthy, but they will remember how well-appointed and welcoming the house feels. A lot of that is found in the finishing touches and seemingly minute but critical details, like the importance of wine openers and chopsticks.
The final push to finish outfitting your short-term rental can feel overwhelming and daunting, but it's important to stay focused. When budgeting your buildout, expect to spend 5-10% of the cost of construction on interior decor. Choosing well-built items that will have longevity over the course of welcoming hundreds of guests will save you money in replacement costs and potential down time later.
Behold! Golden Rules
When it comes to designing the perfect space, there are a few golden rules we like to live by:
Design something that reflects the unique environmental and cultural qualities of your specific location, even micro-neighborhood. Think Alberta Arts, not just Portland.
Have a well-defined vision of your ideal traveler and plan the space with them in mind.
A mix of repurposed items and brand new gives the space a feeling of authenticity.
Stay away from materials that could trigger allergic reactions.
Keep It Local (Wherever You Are)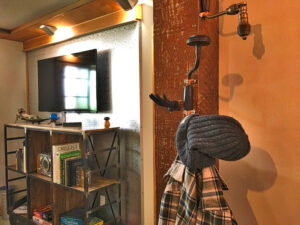 While it might be tempting to create a tropical oasis in the heart of the Pacific Northwest, when potential guests are considering their many available options from their homes somewhere in the big, wide world, they will focus on spots that reflect their idea of what their ideal Airbnb in their target city might be like. Think Portlandia in Portland, not Miami Vice.
Design for Your Ideal Guest(s)
If your space has been created for two people to use, think of an ideal couple you know who travels quite a bit and would be easy-going and fun to host. What qualities do they need from the interior furnishings to be comfortable?
Do they need blackout blinds for late mornings and jetlag recovery?
How about a cozy throw for chilly evenings?
Filtered water pitcher to minimize plastic waste?
Are they going to want to unwind with a TV after exploring or are they the tablet types?
If a TV is required, will they expect access to Netflix and Hulu or will basic cable suffice?
Push to the Finish!
Make a list of what you'll need for every room. Consider if you have extras in your personal space that you can contribute — who doesn't have too many mugs in the house, seriously? Once you have your list of remaining items, identify potential stores to price compare and look at community resources like Craigslist, NextDoor or OfferUp to find awesome housewares. A smart selection of previously owned items can really liven up a new space. By re-using items you also reduce waste and help the environment. Inviting history and personality into a space is what makes it unique and makes it stand out in a sea of cookie-cutter, mass-market decor.
Have fun and enjoy the process — remember, your listing is always in rough draft mode. You can edit both the furnishings and the text and photos — the push to finish (!!) is the important part!