Visiting Portland? Get an Eye-full of Our Must-Sees
If you're weighing vacation destination options and considering visiting Portland, chances are you've already heard what a fun, quirky city it is – but we're more than just doughnuts in pink boxes and IPAs. We've compiled this list of our favorite spots for nature enthusiasts, hikers, and highly regarded points of interest throughout the city. Enjoy this virtual trip down a list of our must-see destinations for folks considering visiting Portland.
Audubon Society of Portland – beautiful nature sanctuary located next to Forest Park. This is great place for solo hiking or to take the kids to learn about Portland's fauna. Many of the 4.5 miles of trails connect to Forest Park's extensive trail system. They also have some live birds on display for education, a visitors center, wildlife taxidermy exhibits, an auditorium, classrooms, and a wildlife care center that treats injured or orphaned wildlife -no admission charge makes for a fun, free excursion.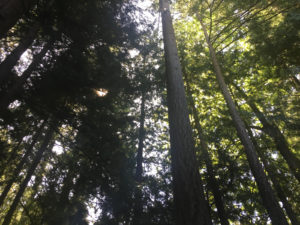 Forest Park – one of the country's largest urban forest reserves with 70 miles of well-maintained trails surrounded by lush greenery. Great place for a forest hike within the city.
Hoyt Arboretum – a nature lover's paradise. Thousands of individual trees and more than 2,000 species of shrubs from around the globe. The arboretum has 12 miles of easily walkable trails – 2 are wheelchair accessible – a visitors center, a picnic shelter, and a beautiful meadow. The volunteer tour guides are always friendly and eager to share their knowledge with you.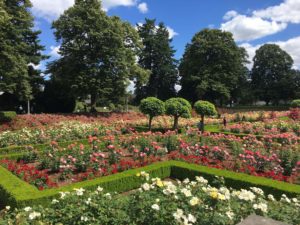 International Rose Test Garden – a must-visit when in "the City of Roses". Located in the beautiful Washington Park, around 550 varieties of roses bloom from April to October, with their peak typically in June. Don't miss the NE neighborhood Peninsula Park for more beautiful roses – the city's first rose gardens, the shady gazebos and vigorous central fountain make it a cool place to visit on a hot day.
Japanese Gardens – a four-season beauty, this scenic attraction is a must-visit for nature lovers. Conveniently located in Washington Park near the Oregon Zoo and Rose Garden — don't miss it no matter the time of year!
Joseph Wood Hill Park at Rocky Butte – located in NE Portland, Rocky Butte is an extinct volcanic cinder cone. The park at the top of Rocky Butte is accessible by car. Best on a clear day, it's a great space for picnicking or just taking in the spectacular 360 degree views of downtown, the west hills, Mt. St. Helens, Mt Hood, and parts of the rest of the Cascade Range.
Lan Su Chinese Garden – an entire city block, built by 65 Suzhou artisans, filled with over 400 stunning plant species, mostly indigenous to China – a gorgeous retreat in the heart of the city.
Mt. Tabor Park – several miles of paved/gravel trails lead to the top of this volcanic cinder cone. Beautiful views from the top and gorgeous scenery throughout the park.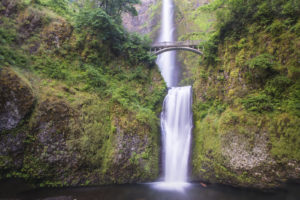 Multnomah Falls – located about 30 minutes east of Portland off the Historic Columbia River Highway. Oregon's tallest waterfall, and a sight to behold! Walk the paved trail to the Benson Footbridge to view the falls from above the lower cascade, or hike all the way up a series of switchbacks for a birdseye view of the Columbia Gorge.
Oaks Amusement Park – visit one of the country's oldest operating amusement parks. Featuring boardwalk games, a historic wooden carousel, a skating rink, and 20+ rides (they operate seasonally) -this is a spectacular place to spend an afternoon.
Oregon Zoo – one of Oregon's most popular attractions, and a favorite of ours. Their exhibits are beautifully constructed and they're home to a vast array of African and Northwestern species.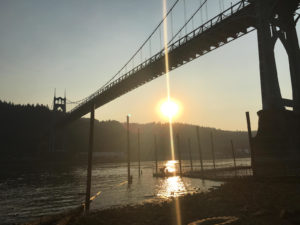 St. John's Bridge – Gothic suspension bridge created before San Francisco's by the same architect. It's Portland's tallest bridge and there's a lovely park underneath with waterfront access and a small off-leash area for dogs!
Tom McCall Waterfront Park – take in the beautiful views of the Willamette and the historic sites along its east bank. Walking, biking and e-scootering can be a fun, accessible way to take it all in! And to think, this popular spot for locals and tourists alike used to be a freeway! In the mid-1970s, I-5 was relocated across the river and a biker's, walkers and photographer's paradise was created.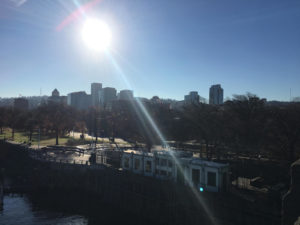 Personalized Recommendations
Once you're on-the-ground visiting Portland, tap into your resources for recommendations that are personalized to your needs.
Ask Your Host – One of the benefits of traveling with the Airbnb community is that you have access to a local who loves sharing their favorite parts of the city. It's like having your very own concierge! If you need a recommendation for something specific during your visit, just ask your host! If they don't know, most will find out or at least point you in the right direction.
Tourist Information – Take a quick pitstop at Travel Oregon's tourist information kiosk located at PDX airport's baggage claim area and grab a few helpful maps and guides. Once you're exploring downtown, drop by Travel Portland's new tourist information center at Director Park (a few blocks from Pioneer Square) to peruse their well-organized print materials or chat with the friendly folks to receive hyper-personalized recommendations on the best ways to spend your time visiting Portland.